Please read the entire Services page before planning your trip.
As a client or potential client of Doney Coe Pet Clinic, contact us directly, DO NOT contact Urban Animal.
LOCATION: White Center, 9610 17th Ave SW, Seattle, WA 98106
About the location: Urban Animal has generously offered their space temporarily on SATURDAYS ONLY.  Please DO NOT contact Urban Animal and contact Doney Coe Pet Clinic @ info@doneycoe.org.
DATES:
June 3rd, Saturday      9-3 PM
June 10th, Saturday   12-3 PM
June 17th, Saturday     9-3 PM
June 24th, Saturday   12-3 PM      Pawsitive Alliance 12-2:30 PM
Pawsitive Alliance offers free pet supplies and food (while supplies last), and pet identification (tags).
Doney Coe Pet Clinic offers no-cost veterinary care to individuals/families in Seattle/King County that are unhoused or those with income that does not exceed twice the 2023 Federal Poverty Limit (see chart below)
INCOME VERIFICATION
Below are examples of what to bring on your first visit to our clinic.
Bank statement

SSI/SSID documents

Subsidized housing documents or letters from housing

Paycheck stubs (most recent)

EBT

Other reasonably accessible proof of income
SERVICE QUALIFICATIONS
Persons in Household                      1                    2                  3                   4                  5              6             
200% Federal Poverty Level     $27,180      $36,620      $46,060      $55,500    $64,840    $74,380    
SERVICE REQUIREMENTS 
Doney Coe requires all pets to be spayed/neutered for continued veterinary care. At the initial visit, we will provide a list of possible options, and encourage you to do additional research.

3 pets maximum per household and 2 pets maximum per visit

Please be kind to the volunteers and staff.  We do not tolerate yelling or arguing with volunteers/staff, you will be asked to leave.
All services are offered at the discretion of Doney Coe Pet Clinic.
We are FIRST COME, FIRST SERVE, we do not offer appointments.
Arriving at the clinic
Please stay in line, in the order you have arrived until you have been checked in and guaranteed a spot. Once you have checked in you are free to leave and come back, depending on where you are in the line.  Please let us know if you are stepping away or waiting in your car, and we will give you an estimated time to return.
Clinic Capacity
We never know how early people are going to show up, however, we are consistently at maximum capacity anywhere from 1-3 hours before we open. Please do not give the volunteers/staff a hard time if you do not make the cut-off.  In the event of an urgent case, it may result in some clients being asked to come back to the next clinic day.
Waiting
We have the same challenges as many veterinary clinics, with limited indoor space, we let 2-4 clients in at a time.
Wait times can be as long as 5+ hours, depending on when you arrive and when you are seen, please plan accordingly.

Please dress for the weather; bring umbrellas (for shade or protection from rain), chairs, and blankets for your dog to sit on. 

We do not allow people to save another persons  place in line. 

Dogs must be on a leash and cats in carriers. 

We do not tolerate arguing with staff, volunteers, or other clients.  You will be asked to leave if you do. 
Bathrooms
Unfortunately, we do not have bathrooms available.  Once you have checked in you are free to leave and come back, depending on where you are in the line.  Please let us know if you are stepping away or waiting in your car, and we will give you an estimated time to return.
Parking
We have limited parking available and street parking.
Community safety rules
All animals are required to be on a leash or in a pet carrier. Don't let pets interact with each other, they may be sick and contagious.  If your animal is sick and possibly contagious, please keep your distance from other animals and announce active symptoms to our check-in team. Caution is advised if your animal shows symptoms of vomiting, diarrhea, and/or is lethargic.
Reactive Dogs
Please let us know if your dog is human and/or dog aggressive so we can take appropriate measures.
General
Preventative care includes wellness checks, vaccinations, flea treatment, ear treatments, wound care, medication management, and limited diagnostic testing.
Diagnostic/Surgery
When an animal needs surgery, we will put them on a waitlist and schedule it on one of the procedure days.  Surgeries are provided by our volunteer veterinary professionals. Our current waitlist for medically necessary dental procedures is roughly 1-6 months out, depending on the severity. We appreciate your patience.
Urgent / Emergency
We do not offer urgent and emergency services. If your animal needs urgent or emergency care, we will supply a list of local Emergency hospitals to you.
Medication Refills
We request a 2 week notice for refills, please email us at info@doneycoe.org for your refill.
Refills will not be filled if you come to the clinic and request a refill, we have a tight schedule and devote that time to seeing as many pets as possible.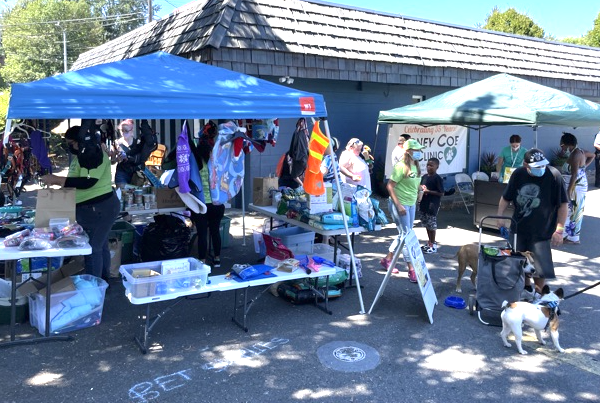 Pet Food Banks
King County
Seattle Humane

Seattle Animal Shelter

Regional Animal Services of King County

North Helpline - Bitter Lake Food Bank

Issaquah Food and Clothing Bank

Ballard Food Bank

Byrd Barr Place

Fall City Food Pantry

Food Bank @ St Mary's

Maple Valley Community Center

Kent Food Bank & Emergency

Preston Food Bank

Renewal Food Bank

Snoqualmie Valley Food Bank

Urban Rest Stop

West Seattle Food Bank

Hopelink

White Center Food Bank

Rainier Valley Food Bank

North Helpline

Enumclaw Kiwanis Food Bank
Pierce County
Graham Southhill Food Bank

Orting Food Bank

Key Penninsula Bischoff Food Bank

Edgewood Community Nourish Food Bank

Southeast Tacoma Nourish Food Bank

Lakes Area Nourish Food Bank

Gig Harbor Peninsula Fish Food Bank
Snohomish County
Skykomish Harvest Food Bank

Sultan Food Bank

Volunteers of America, Everett Food Bank
Pawsitive Alliance
On the 4th Saturday of each month, Pawsitive Alliance has a dedicated volunteer team that provides a wide selection of food and supplies.